Radio Taxi 19 191 was established in 1992 and was the first taxi corporation in Rzeszów, which allowed customers to order taxi over the phone. Today, we are one of the biggest taxi corporations in our region and the range of our services is constantly growing.

We have a modern customer service program, which allows us to monitor ongoing taxi traffic. Thanks to that, customer is waiting shorter. System allows precisely match the car to customer's needs. It can be combi or bus taxi, car with higher or lower body, with terminal for card payments and non-cash settlements.
The Radio Taxi 19 191 application allows customer to order a taxi without calling and track the taxi directly on the screen.
Radio Taxi 19 191 has 120 different brand taxies with same corporate signs. Services are provided by licensed drivers. Radio Taxi 19 191 co-creates a nationwide taxi network "Taxi Polska 19 100" and provides a non-cash settlements. Non-cash services are based on magnetic cards or one time use coupons. Documents are honored by all corporations which belong to Taxi Polska 19 100.
YOU CAN RECOGNIZE US EASILY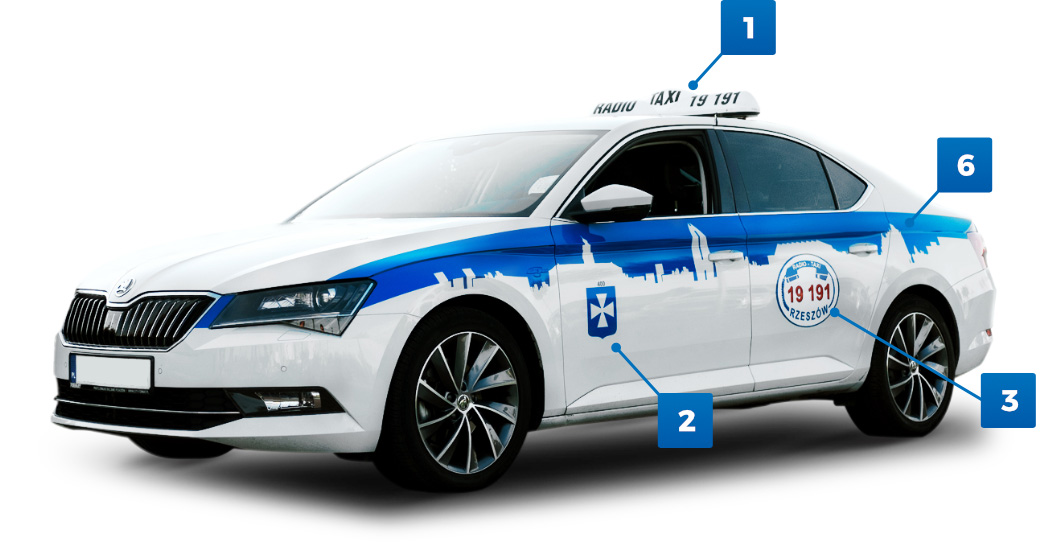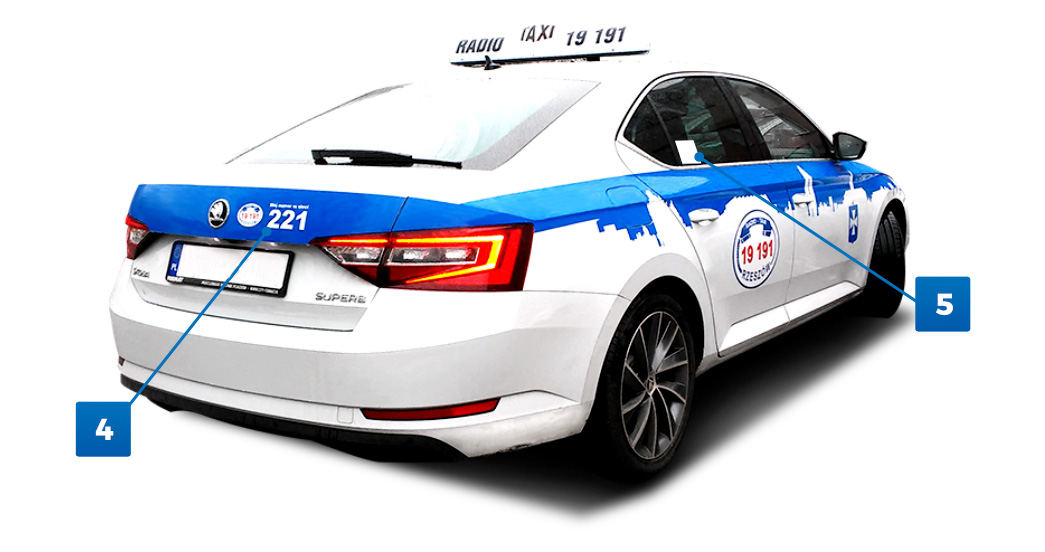 1. White lampshade with RADIO TAXI 19191 sign
2. Arms with license number (number given by the Municipal Transport Department), on the front door, on both sides,
3. Radio Taxi Logo - in a central place on the back door, on both sides.
4. Number in corporation, e.g. 234 – this number allows us to identify the car and its driver inside the company (it's better to provide this number while reporting the request or complaint).
- big – outside at the back of the car, in the most visible place,
- small - on the dashboard, in the most visible place,
5. taxi tariff - in visible for customer place, inside the car and outside on the right side of the car
6. city landscape - outline visible along the car